The Organized and Inspired Scrapbooker emphasized understanding your scrapbooking process in order to organize your workspace for maximum enjoyment. The book even comes with stickers to make a flow chart with (I couldn't bring myself to do it, because then they'd be used up) But I heard on the Paperclipping roundtable "How to deal with all that stuff" podcast, that there are rubber stamps to do the same thing.
When I went through the quizzes in my book, it was a bit like when I took personality inventories in college to help me choose a major – I'm in the middle of everything accept preferring to have a plan rather than make it up as I go along, accept that I do that too sometimes! (I came out INTJ back in college, but teattering in the middle of strength of preffererence) The 80's "left brain right brain" thing? I'm in the middle. Am I artsy or scientific? yeah. I'm Aesop's bat. Do I homeschool classically, Charlotte Mason or Unschool? Not as much of any of them as I meant to.
So, having just finished the scrapbook from my trip to China 2 1/3 years ago, I thought I'd reflect on my processes, for the next time I get started on an odyssey. First of all, some of the panic was allayed by having kept a journal and backed up my photos, and putting all the ephemera into a plastic file. So the stuff wasn't going anywhere, no panic. But the little girl was getting bigger, and her folks hadn't seen the pictures. We sent them the pictures, eventually (after 2 years) I transcribed my journal, skipping the pregnant scatological bits, and e-mailed them that. (I'm sure most of that phew!-ness came originally from Stacy Julian and the folks at simple scrapbooks (sniff))
But the book didn't going until I'd gotten a vision, the colors in Guangzhou were different from New England. When Stampin' UP! put out their Eastern Eclectic line, I'd found my colors, so I ordered lots of so Saffron paper, and Old Olive. I don't know why I didn't also buy Ginger Blossoms patterned paper, but the budget is always a big deal too in these matters!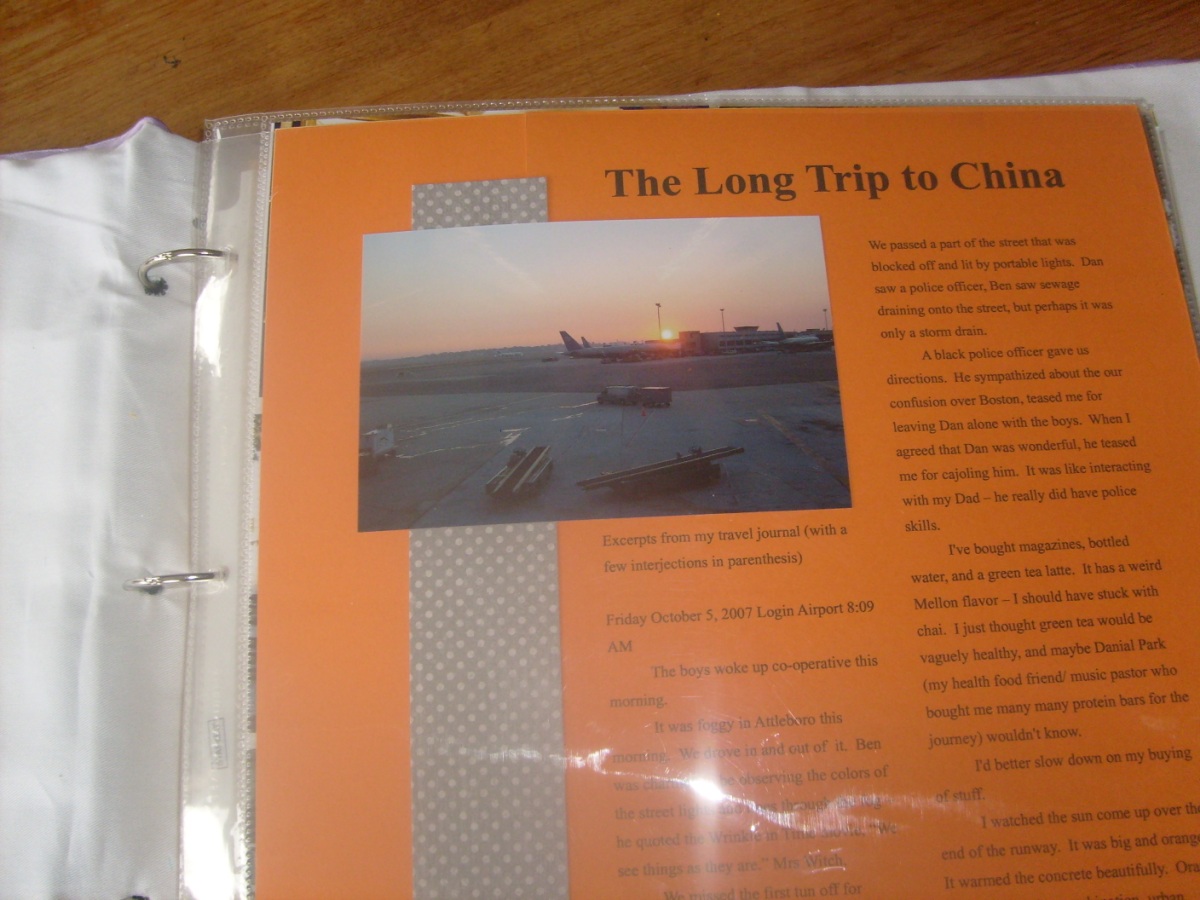 I also seem to have had days where I either wrote in the journal, or took pictures. Putting them together was tricky. I got some ideas from Simple Scrapbooks Quick and Easy Photo Albums, especially the idea of buying the 12×12 photo pages from American Crafts.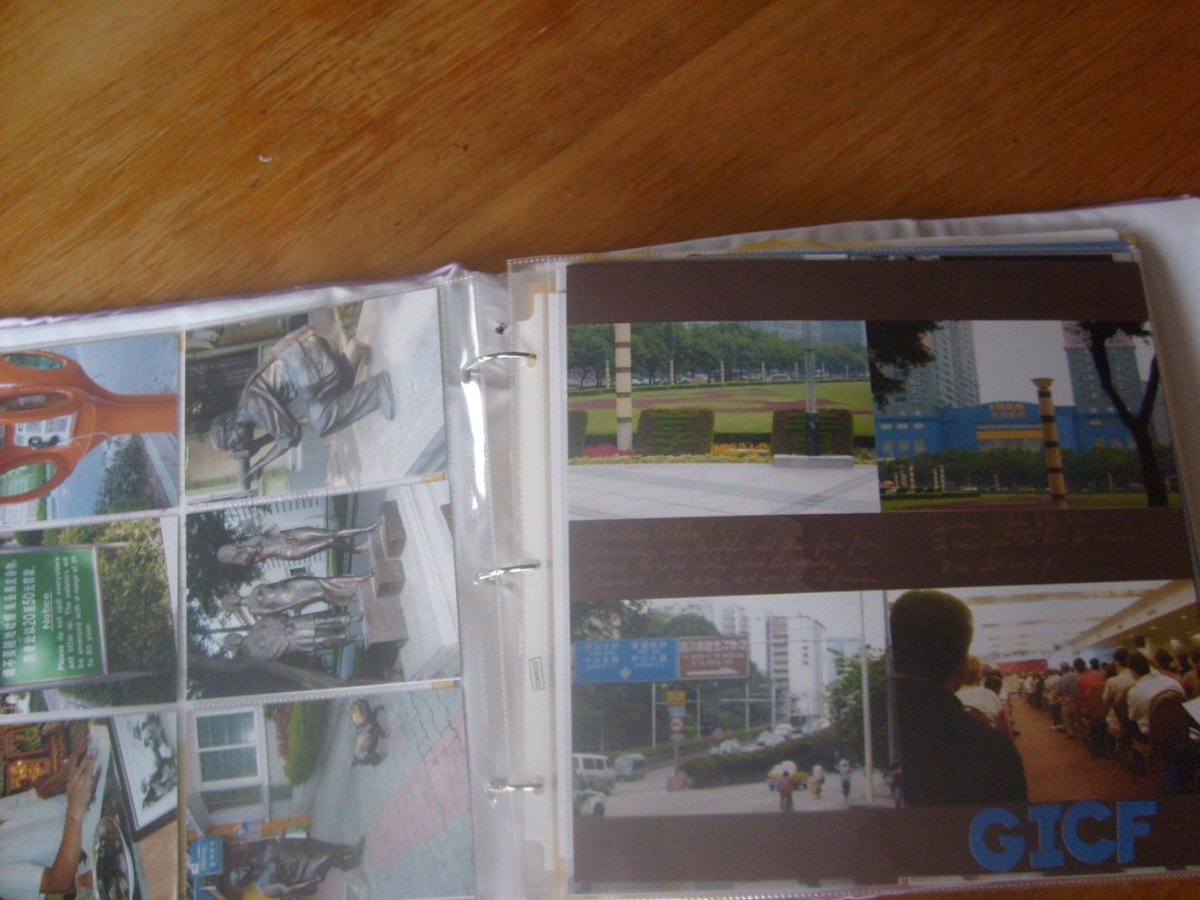 When I had a gap, I put in some patterned paper to cover the space. I arranged the photos on those pages non-chronologically, but by location. so all of my exploring Shamian Island photos went there. I put the horizontal and verticals on separate pages, and made the verticals so that once you'd tipped the album the page flip was in the same orientation. Ali Edward's Christmas album set me free to use 11 1/2 x 8 pages along with 12×12., and to sometimes just put in a piece of pretty paper all by itself if there was a gap, or need for a pause.
So some of my pages were about an idea (what we knew and when, about the little girl, a photo of the child in the center, with journaling spots of dated observations clustered around ( I think that was an idea from Donna Downie) Some were about stories, I just printed them on regular printer paper, and decorated them with cut outs of patterned paper (DCWV Far East Stack, Mom got it on clearance for 40% off of $3.27 at Jo-Ann's)
I got a lot of page layout ideas from Cathy Zielske (and a lot of hybrid digital scrapbooking ideas) as well as from page maps.
Once I had that vision of the overall book, I was still stumped on how to make the cover from the fabric I'd bought in China. I copied the method of Donna Downey's canvas album, sewing the fabric, rolling up the side to put the grommets in for the binding rings (with my Big Bite love that tool! I've even added holes to M's belt with it when he got skinnier after a growth spurt and his pants were falling down.) Then I filled the sides with chip board, then hand sewing up the top.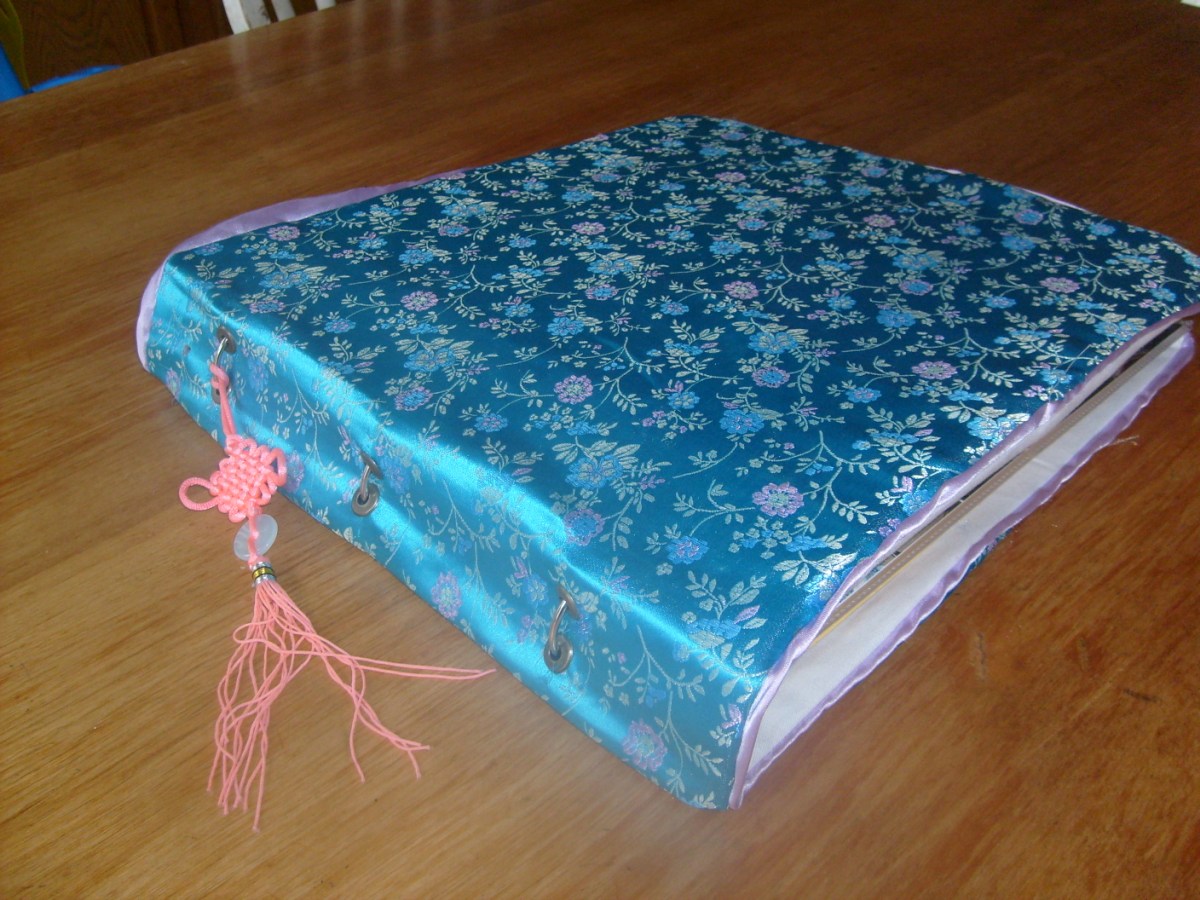 So, my steps were: transcribe my journal, print the photos. Sort the photos into ideas for pages (this really got me going, I think it was the most inspirational step for me) list out pages: ones based on photos, journaling, and memories that I didn't have any stuff for, AFTER THAT – things picked up speed, especially when DH agreed to take on the boy's evening bed time reading, I was encouraged to go on with it as I started to put the completed pages in the album, and leaf through them as I went along.
So next time: I'll print out the photos first, sort them and make my list, buy an album to put the pages in as I go, and try to keep hopeful that I really will finish up – because I really am the sort of person who finishes things eventually, even if I don't fit into an easy to categorize personality inventory.
Related Posts via Taxonomies