When my friend posed this question on Facebook, I thought at first, whatever do you mean?  The kids never go away, how can I spend more time with them?  Then her meaning sank in, you can be physically with someone, and not really paying attention to them.
As Jimmie wrote in a recent post, "What your Middle Schooler wants you to Know,"
Spend time with me.
Homeschool doesn't count. I want time with you just talking, especially with you just listening. There is a lot I want to say to you and ask you, but sometimes you are so busy. I think you don't have time for me.
So, what to do about it?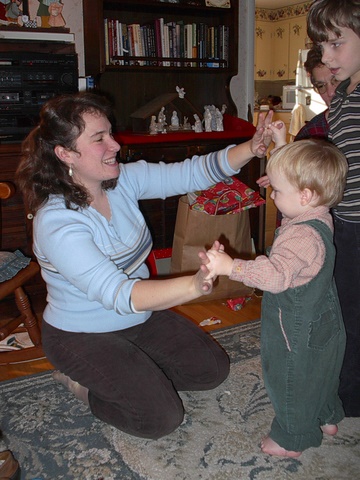 Saturday mornings I often go shopping by myself.  Sometimes I take one of them along so that they can be the center of attention – even if it's just errands.  I also try to pack fun things when I know that we will be at the dentist's, or waiting for B at flute lesson.  I will read to M and K or play ball with them at B's teacher's house while we wait.  Sometimes they both fall asleep – then I get to hang out with me! I'll knit or read or write lists.
Every day I take them outside for – well I'd like to say an hour, but finding gloves and crying spells when it's time to leave the park eat into the hour.  I play tag with them and chat as we walk to the park and back – if K is not melting down loudly.  Sometimes we all take a walk to Daddy's lab and walk him home.  In late spring we have to smell the lily of the valley at a neighbor's house (reminding everyone not to eat any, they are poisonous).  We walk on the retaining walls, avoiding the Poison Ivy.  It's a wonder we get to work at all before closing time and the lady with the candy goes home.
I try to pay attention to what they are excited about, the dragons M has invented, the cool things B has discovered about the human brain as he researches nerves, K pretending to be a bunny…even though they tend to want to tell me these things when I have a time crunch or I'm talking to one of their siblings!  Those interruptions, I hate them, but as Screwtape points out to Wormwood, my time can't be called mine. That interruption might be more important eternally than my plan to clean up the kitchen (I do try from time to time.  Honest.)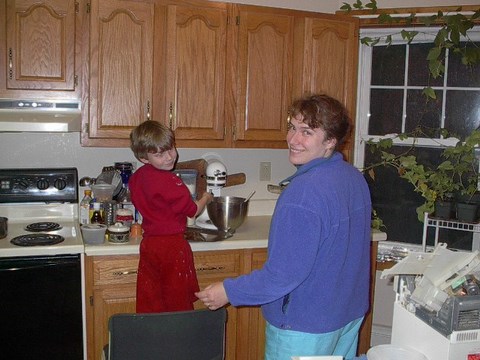 Snack times are important to my kids.   Carrots and creamy salad dressing dip, apple slices (sometimes with honey/peanut butter spread) pop corn (before M started his orthodontia), bananas in Hershey's syrup, cheese and crackers.  They are more open to learning how to use the paring knife or other kitchen gadgets at those times than while I'm making dinner (I suspect I'm friendlier then too.)
By the way, Aunt Shannon, M has made 5 recipes from the new book, and K will pickup the monkey peeler and say to me, "This sharp.  This tool." and then set it down carefully.
Despite the opening quote, parts of the kid's lesson time can be a fun time together – sort of.  It depends how open you are to bunny trails, joking, and going off topic.  Your method of teaching has a lot to do with this.   If you are using a lot of literature studies, hands on activities, or discussion, you have to interact.   Some folks have a strong separation between Mom the tutor, and Mom the Mommy, I tend to smoosh them together – teaching when we are having fun together and retroactively counting it as school.  Not that I really un-school, I just read those books and daydream.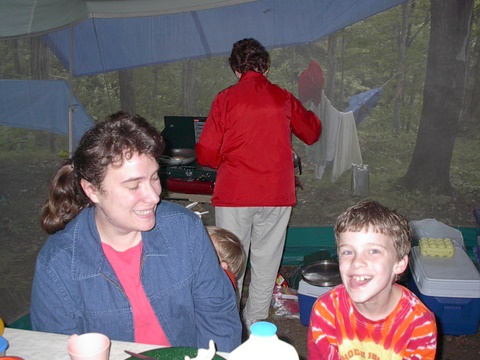 Homeschool doesn't have to look like traditional school at all – you don't need desks  if you can get your kitchen table cleaned off and they have a stool so their feet don't dangle.  They may need a place to store their stuff that will keep little siblings out of their special pens though.  Field trips, and nature study times, are times you can learn and interact.
You are the one deciding how much of a curricula is going to be lessons, and how much is going to be outings.  (Even if that means that some part of a book you paid for sits idle this time around.)  Invest in a good picnic set so you save money on lunch, but do pack (or buy) a little something special for the day to munch on.  Field trips can spark all sorts of lateral investigations, they can also be a bit of a gamble if you are hoping for precise outcomes.  Wear good shoes, and have an easy supper planned, kids get so tired on those days, but they show it by running fast and teasing each other.  Still, it's a, 'school day' that feels like a holiday day trip.  Do your parents want to know what Christmas gifts will help your homeschool?  A museum pass takes up less room than toys do, and maybe they can come along on some trips!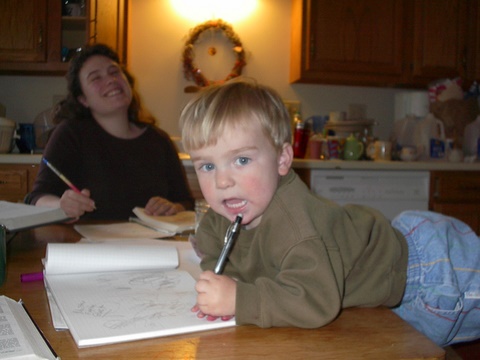 Drawing exercises (especially if Mom is setting an example as a co-learner by trying it out too) are other times like that too. Of course, my guys used to get so frustrated at drawing times that our interactions looked like World War II.  But I didn't know how much they needed coaching on perfectionism until then.  I didn't know that drawing wasn't, "fun" for them until then.  I have to start drawing or painting with the guys again in the next 1/6th of the year – courage Chris!
My kids are NOT shy.  Even B the teenager is pretty expressive.  As K the 2 year old often says, "I sad.  I crying." as if the wails needed emphasis!  If there is a problem, I know about it, and nothing is going to get done until it's dealt with.  But I have no experience with reserved children.
How do you spend time with your children as a parent that is interested in them, and not just their authority and educational institution?
Related Posts via Taxonomies