Maureen at Homeschool Mo awarded me the Versatile Blogger Award.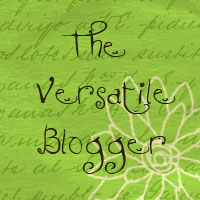 Award Rules:
1. Thank the person who gave you this award
2. Share 7 things about yourself.
3. Pass the award along to 10 bloggers who you have recently discovered and who you think are fantastic for whatever reason! (in no particular order…)
4. Contact the bloggers you've picked and let them know about the award.
I may fudge the recent part of the recently discovered part though – I don't think I've been blogging and reading blogs that long, unless I have to go at internet speed.  I'm not even good at fashion speed: I've subscribed to the inspiration boards for hand knit designers at Twist Collective and Knitty, and I came up with ideas just about a week before the collections are published.  I may have to just self publish – I'll too slow!
7 things about me:
I read very rapidly, but cannot spell.
I'm putting off writing my menu/grocery list to write this because this is more fun.
I knit continental style most of the time, but knit back backwards English.
I'm almost out of ideas to help M and B earn money doing chores so they can buy Christmas presents with it – M especially is concerned that he is leaving K out, so I'm going to help him make lacing cards, even though she will probably shred them.
The last novel I read was the The Guernsey Literary and Potato Peel Pie Society
I'm up to Paul stands before Felix and Festus and Bernice in the chronological Bible reading
My birthday is Christmas Day.  I will be 41 this year.
The Blogs
A Families Love because co-op nursery has been fun this session
Bits and Pieces because CZ got me blogging in the first place.
Musings on the Art of the Cable
Beyond Bedrest this is a short blog, but anyone who can turn bedrest into art is flexible.
Related Posts via Taxonomies