Sometimes my kids learn things because I planned a careful lesson, taught it regularly and they made predictable progress.  But most of the time, nothing happens for a long time, then BAM.  When they are ready, they get obsessed, and it clicks.  I guess that counts as funny.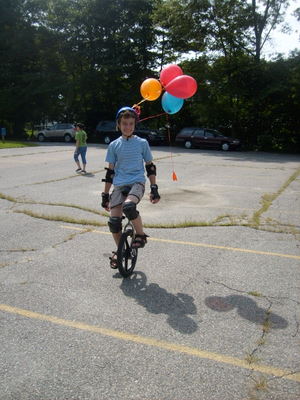 B has been enjoying his unicycle this year, having learned most of it last year.  He was our crowd getter at the Family Fun Fair this summer.  I think he learned it partly because he really wanted to, and partly because no one thought he could.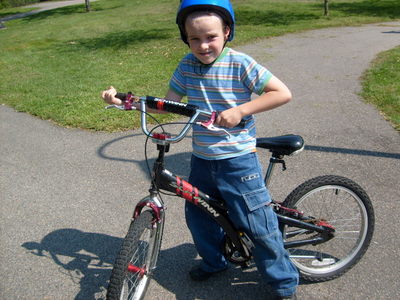 This summer, M decided it was time to conquer the two wheel.  Anywhere we went, he went on it.   The last part to click was breaks.  Sometimes his stops were spectacular and scary.
But now that he's got it, it's hard to photograph him, he moves so fast, and that's happy.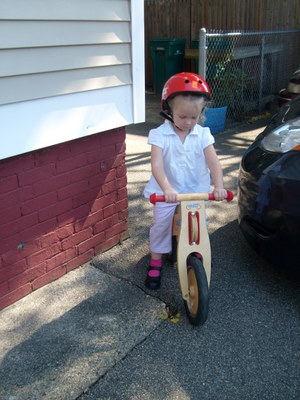 K is beginning to be comfortable on her scooter, but she likes the seat so low she can't really glide on it.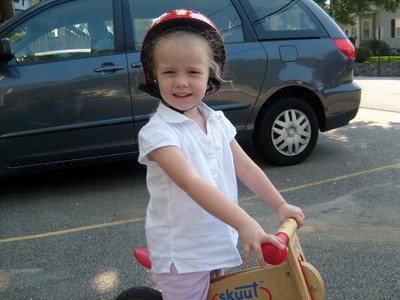 Mostly she likes to pretend that she is riding like her brother, without having to take her feet off the ground.
I think the helmet matching her scooter is pretty.  The real part of taking the scooter to the park for recess is that I always have to carry it home, she wants to skip and run!
Related Posts via Taxonomies