Yes, scrapbooked objects can get too busy and gaudy. But sometimes, the question is not, "Is this tasteful?" but, "Can I find it in a crowded room?" So, with that caveat, here is my pretty picture: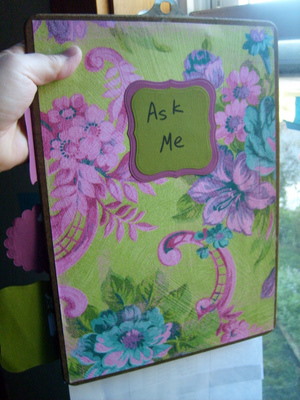 Last Spring, with my Birthday diecut machine calling to me from my craft shelf, I decorated the co-op clipboard.  I originally bought the patterned paper because 1) it was on sale and 2) It reminded me of some stationary I had as a little girl with impossibly blue roses.  Gaudy, but I did get my thank you notes in the mail, because I loved those blue roses, and the misty wishing well on the front flap.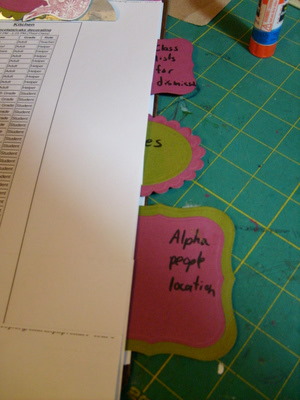 I hired a teenager (he's in college now) a few years ago to make the homeschool co-op a data base.  We didn't have funds to actually pay him, but we gave him space on the co-op's HostMonster site for him to put his web stuff.  I chafe a bit at entering the data (honestly, does anyone enjoy entering data?) but once it's in there, I can keep up with my flexible families, and make any chart I need, no matter how often they change which class their child is in, or if they are co-oping at all this year, or…you would not believe how many "ors" some families can come up with.
So I print out class lists by location and sticky tack them to the doors so families know where to go.  I print out class lists by class so we can call role.  I Print out an alphabetical list of all the people so whoever I hand the clipboard off to when I'm not working as "floor officer," can find parents when their kids are sick, naughty or distressed. I print out lists of chores, so when a parent doesn't remember what they are signed up to do, I can find out, or if no one is doing xy or z, we can find out who is supposed to be doing xyz and yell at them…I mean, gently remind them.  All those charts in less than an hour with no cutting, pasting, or sorting of a spreadsheet?  Totally happy.
And I tabbed all my printouts with die cuts.  (More papercrafting goodness!)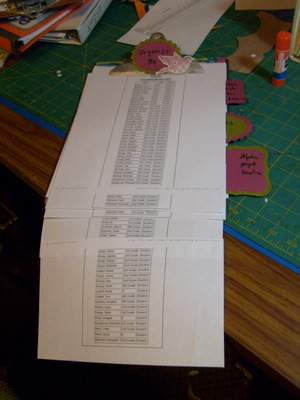 We have a lot of students this year.  I had to cut and glue stick some lists together to make a location page. But any day with a glue stick is a good day for me.  Glue sticks and papercrafting make me happy.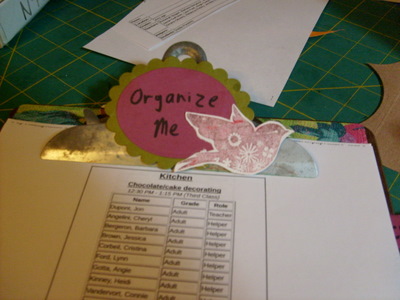 This year I added my little bird.  It reminds me that no matter how harried I feel organizing a co-op and being the only one from my church there (and thus the only one who knows where the coffee, scissors, fire extinguisher etc. are) if his eye is on the sparrow, I know he's watching me.
Totally different:
Our upstairs neighbor is sorting through her belongings before moving to her new house.  This fuzzy pink chair doesn't fit her daughter anymore, but the cat loved it when it was out in the trash, so my son rescued it for him.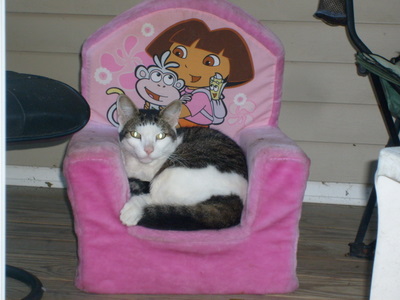 It looks really funny on our front porch.
But seeing that tough, fighting mouser curled up in a pink chair makes me laugh.
And yes, organizing homeschoolers is totally like herding cats.
Related Posts via Taxonomies