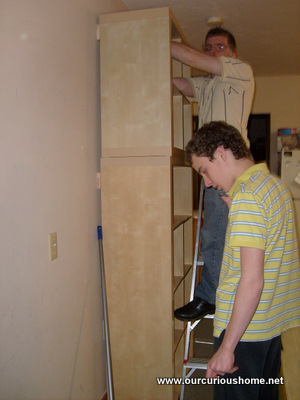 In May, Dan asked me what the next step in our apartment plan was; I automatically responded, Ikea shelf to replace the phone table and short school stuff shelf.  So he gave me a Saturday, took the kids with him to Ikea, then assembled everything and bracketed it to the wall.  Funny, I don't remember what I did, but I got to do it alone for a few hours in peace and quiet!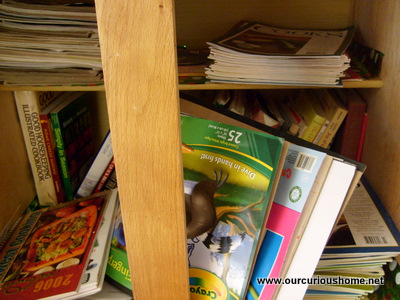 The cookbooks and large pads of fingerpaint paper are now in the kitchen cupboard where the art supply stuff used to be…and never got used because it was too hard for the kids to open.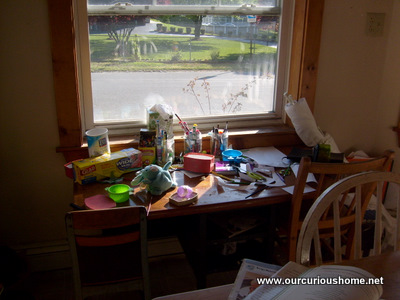 Well, they are really getting used now!  And that makes me happy.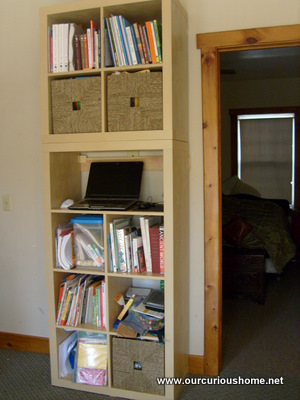 I've replaced a short bookshelf and a stack of milk crates as well as the cupboard of art supply stuff with this shelf.  Sometimes we keep a laptop in the big shelf, sometimes we don't.  When we get new speakers for the laptop, it will be my kitchen "radio."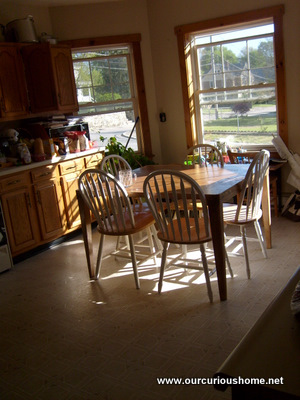 Right now B has no desk of his own, so he  is sharing with me on the sewing table, but the budget says he gets his own desk in July, and there is an empty spot in the workshop for it to go, thanks to the vertical shelf opening up footprint in the house.  The kitchen table had to shift 90 degrees, but the total effect is peaceful and pretty.
More of our "educational" games, math manipulatives and art supplies are seeing the light of day in the afternoon when my kids or their friends tell me they are bored.  I am one of those people who needs open storage to remember what she has, and my kids need to be able to access something in no more than two steps to use them.  So I'm really thankful storage that supports our other goals, and the way we do things naturally.
Related Posts via Taxonomies