Annie gave me an award yesterday.  I know what she means about the chain letter aspect, but since there is also the friendship bracelet aspect I am charmed.  Thank you Annie.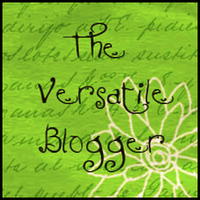 I actually received this once before, but that was on the homeschoolblogger blog, so technically this one is different (?)  At any rate, I don't want Annie to have to go find more blogs to award, she's got a big trip to get ready for!
So, the rules:
Thank the award giver(s) and link back to them in your post
Share 7 things about yourself
Pass this award along to bloggers you read and admire
Contact your chosen bloggers to let them know about the award
7  Things about me
It's hard to impress me with quaint towns, though I love shoppe-ing as much as ever: I grew up near Nyack, NY.
It's hard to impress me with beaches, though all I need for a good outing is to get my feet wet. The first beach I was ever taken to was the town beach at South Hampton NY, we had to drive my Great Grandfather's car with the sticky plastic seat covers and the resident sticker to get there. Great Grandpa was a bricklayer from Shelter Island. When big hurricanes blew in, he'd go check the chimneys he'd build on the big mansions to see how his work had held up. One hurricane his chimney was all that was left standing.
I just found all B's Great Books for next year except "On American Taxation," and "The Social Contract" at Project Gutenberg and side loaded them on his Nook. He doesn't mind reading

Moby Dick

, because it will help him understand Star Trek II the Wrath of Kahn. That's my boy.
My Bank just phoned me with suggestions for switching the type of account we use in checking for the family and especially my sole propriety because the fees will go down by $30 a month and the paperwork will be easier (they have figured out that I am ditsy.) Still, way to go Bristol County Savings Bank. And she asked about my knitted and crocheted patterns!
I'm typing this list in html directly instead of using the visual editor, because the Head First HTML with CSS &  XHTML book gave me list writing homework last night that I skipped, and here was a chance to do it after all naturally.  I was reading in bed, and had no keyboard handy.
Typing those weird arrow parenthesis are hard, but by the time I get to chapter 4 I should be much better at it.
My Sunday School Class was up to Ai in Joshua last week. The kids were a little scared about Achen's Family.
So, the Blogs I'm nominating?  I'll have to be careful not to duplicate any of Annie's, because I find a lot of good blogs in her sidebar.
Related Posts via Taxonomies