One Sunday afternoon when Aunt Bev was still alive, she mentioned that with the soft food/lactose free diet she'd had to take on to leave the hospital, she's just realized she'd never again eat a payday bar.  It wasn't an end of the world observation. She would often mention a snack she'd like, search it out, and enjoy it.  There are still funny little snack glaciers on Mom's kitchen counter. No more such food? Fine.  If that's what it took to be home with family, it was fine.
But we couldn't help brainstorming how to make a soft diet lactose free payday bar substitute.
Which meant I bought a bunch of payday bars even though M can't eat them so we could compare them with our experiments. M forgave me, and added them to the list of sticky, crunchy foods to serve at his "I'm done with orthodontia party."
I combined this recipe for lactose free peanutbutter fudge, with this one for microwave salted caramel, and this one for lactose free sweetened condensed milk. I decided that as long as I was stirring all that lactose free milk in a sauce pan, I may as well make the caramel there, rather then make more dirty dishes.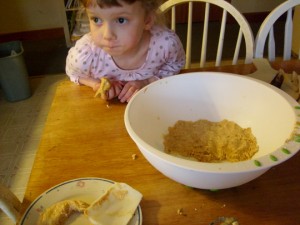 At some point, I wondered if the margarine was really necessary and made a half test batch of fudge with total peanut butter instead of peanut butter/margarine blend.  The kids agreed: the flavor was richer with the peanut butter only version, but it was more like peanut butter crumbs than peanut butter fudge.  And texture is a big deal in candy!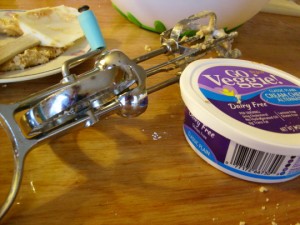 The Peanut butter base: mix and press into a pan with some parchment paper at the bottom so you can get it out again:
4 cups powdered sugar
¼ cup dairy-free soy margarine, "stick" variety – be sure to read the labels, no whey or milk solid for you.
4 oz. dairy-free cream cheese (1/2 tub), I used Go Veggie! brand- because that's what I found
1 cup dairy-free smooth peanut butter
the Caramel Part
Mix in your sauce pan:
1½ cups whole lactose-free milk
1 cup sugar
1/2 Cup Sugar
1/2 Cup Brown Sugar
1/2 Cup Light Karo Syrup
Bring to simmer, keep stirring forever.
Not really. If you want a light syrup,  stop when it's at the firm ball stage – that's how Aunt Bev and Uncle Paul liked their second batch. I liked it at the soft crack stage, but that's more like toffee than caramel.
Stir in off heat
1/4 cup Cup Butter
2 tsp vanilla
Pinch of salt
Pour over the fudge, sprinkle with Kosher salt for that salty/sweet, Payday bar final touch.
Ben watched the kids for me the morning after I finished it so I could drive them over right away. Bev hadn't had her breakfast yet when I got there. She and Paul were organizing lots of medicines, but they had a cheery greeting for me, and lots of time to chat. Paul chuckled at me that I treated cooking like a chemistry experiment, and I blinked an "of course." Which made Bev laugh and remark that of all the family, I had a mind that must analyse, like she did.
I kinda wish I'd been less worried about getting home to set the homeschool starting, but perhaps it's wiser to just be thankful for a morning visit I was able to make, and a soft diet lactose free payday bar substitute that worked.
Related Posts via Taxonomies