I'm editing 3 new patterns – 2 knit, 1 crochet.
We've had several birthdays but we shared cakes, so the baking was not overwhelming,and they were gluten free.  We sang to Dan on Sunday and he shared his candles with Gloria from church.
The cake plate is up on top of the cabinets where it may stay until Ben's birthday in November, unless we have company and I Must Bake Cake for some reason.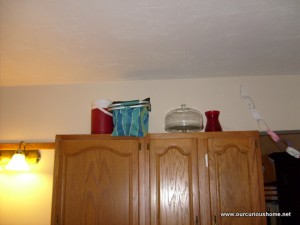 Yesterday we went to the New England Aquarium for M's birthday, and I put photos into the book from the year before.  K's sleeves got wet both times, probably from not rolling them up before petting rays and sharks in the touch tank.  Dan wore the same sweater both trips.
I'm in the year where I read Johnny Tremain, the Scarlet Pimpernel and Carry On Mr Bowditch to M.  Johnny Tremain hasn't come in yet from the library, so we are reading the Scarlet Pimpernel, because I have Dan's copy.  M likes the tricks on Chauvelin, but Marguerite annoys him, so I'm abridging the lovelorn bits.  It's not too hard; read the first two sentences introducing the lovelorn passage, and the last sentence three paragraphs down explaining why she feels that way and what interruption is keeping her from thinking about it anymore – voila, happy 1o year old listener!
Today is Dan's birthday – I bought him a book for his kindle, and I'm throwing together a card for during lunch.  The YMCA is closed for snow this morning, so perhaps the kids and I will swim this afternoon.  I need to think of something special for lunch or dinner to make Dan's birthday.  He has a deacon's meeting tonight, so he's just got work and duty today.  Maybe the kids will think of something this morning – I didn't even wish him a Happy Birthday this morning!
Maybe I should pull out the cake plate again.
Related Posts via Taxonomies