A few weeks ago, we visited Amaral Custom Fabrication for a field trip. My friend Paula cuts hair for one of the ladies that works there, so we had an in.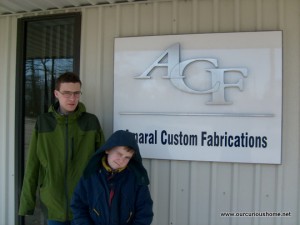 In the '90s the market for custom aluminum racing boats dried up; they had once built a 40 ft spoon with a cherry on top for an artist; with no more boats, the director declared, "We need to find some artists."
I wasn't able to take photos inside the shop, but there were many metal lathes, some special machines they had designed themselves, their lawyer's boat to be painted (he'd partly financed the new shop) and many pieced of re-painted sculptures in storage. Really, really large sculptures. I being the math geek Mom keep pointing out the measurement tools on hand. I couldn't help noticing the skillful graffiti either; all the fans and hoists had intricate drawings and paintings, often of dios de muertos like skeletons.  There were also large fiberglass 'canvases' artists could buy to paint on – the director said, "I've now met a lot of artists, and they all have one and only one thing in common; whatever they buy from you, they want it to last 100 years, so we use only the best materials, and we charge them for it."
The kids got the most excited about the director's car- a board member of Roy Lichtenstein's foundation suggested the mint color.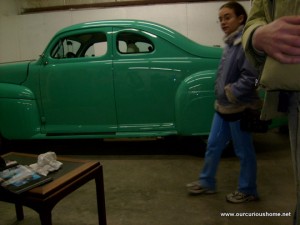 Which was handy, because he's just rejected that same paint that the shop had mixed up for a sculpture.
I asked if the workers missed the boats – wondering if modern art had the same air of cool. The owner indicated the smell the fiberglass glue in one of the bays. "If we were still making boats, we'd smell a whole lot more of that. No, we don't miss the boats."
I love the irony; seeking artists was a wise business decision. Sometimes the world is funny.
Related Posts via Taxonomies