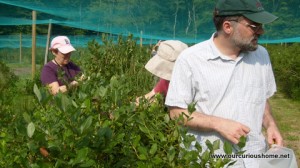 It was plenty hot Saturday morning, so we put on our hats, got up early-ish (for a Saturday) and drove to Dufort Farms to pick 14 lbs of blueberries.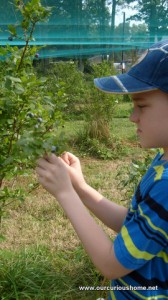 I'd never seen an egg case (or whatever you call it) for preying mantises before – Mrs Dufort said they were very good at keeping the blueberry pests down.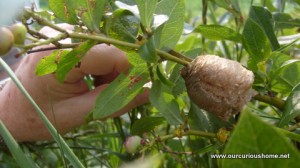 We went directly to Tranquil Lake to admire the flowers, eat our picnic, and try to take photos for DadDad's stair well: he has a resent-ish portrait of each of his children's families, and a photo collage of their childhood.  Ours was so old, K was a babe in arms.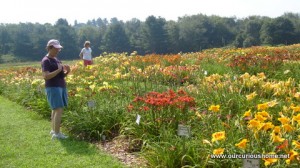 My Mom loves to pick out day lilies by their names to plant in honor or memory of loved ones.  I didn't write down the name of this one, but it reminds me of Aunt Bev.  She was always so careful to chose her clothing by the color me beautiful book's ideas.  And she was beautiful, even in a cancer scarf.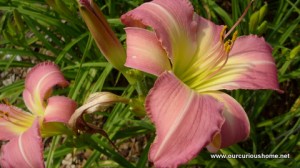 I have a small freezer, so some of the berries went to Mom's celler freezer, and the rest I made into gf pies, one with a sugar free filling for Mom's diabetes.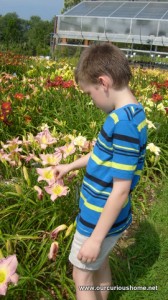 Grandma Clark's in plate shortbread pie crust (adapted to gf):
In a 9 inch pie plate, mix together (either with a fork, or your fingers) and pat into place
1 cup gf flour mix (I used Bob's Red Mill, it didn't have xanthan gum in it)
1T sugar
2/3 cup canola oil
1/3 cup water
dash salt
Bake for 10 min at 425.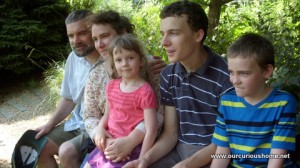 Once the pie crust cools, fill it with 4 cups fresh berries.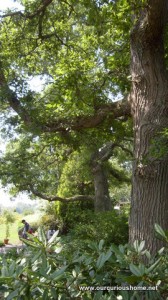 Sauce; microwave 1 cup blueberries. Put them through a food blender or sieve, cook the juice with 2 T cornstarch, 1 cup sugar until it thickens, then pour the sauce over the berries in the pie shell.
Cool in the fridge for an hour unit firm.
The Splenda sauce version:
Prepare 1 cup of berries like the other sauce. Mix in 2/3 cup splenda, sprinkle 1 packet of plain gelatin on top and mix well. Pour over 4 cups of berries in cooled pie shell and refrigerate at least an hour.
Related Posts via Taxonomies