When I returned from the pool this morning, K was happily playing in her room. She emerged in the middle of my breakfast walking so slowly and carefully I didn't hear her approach (and M was right, I did have the volume too loud on the news).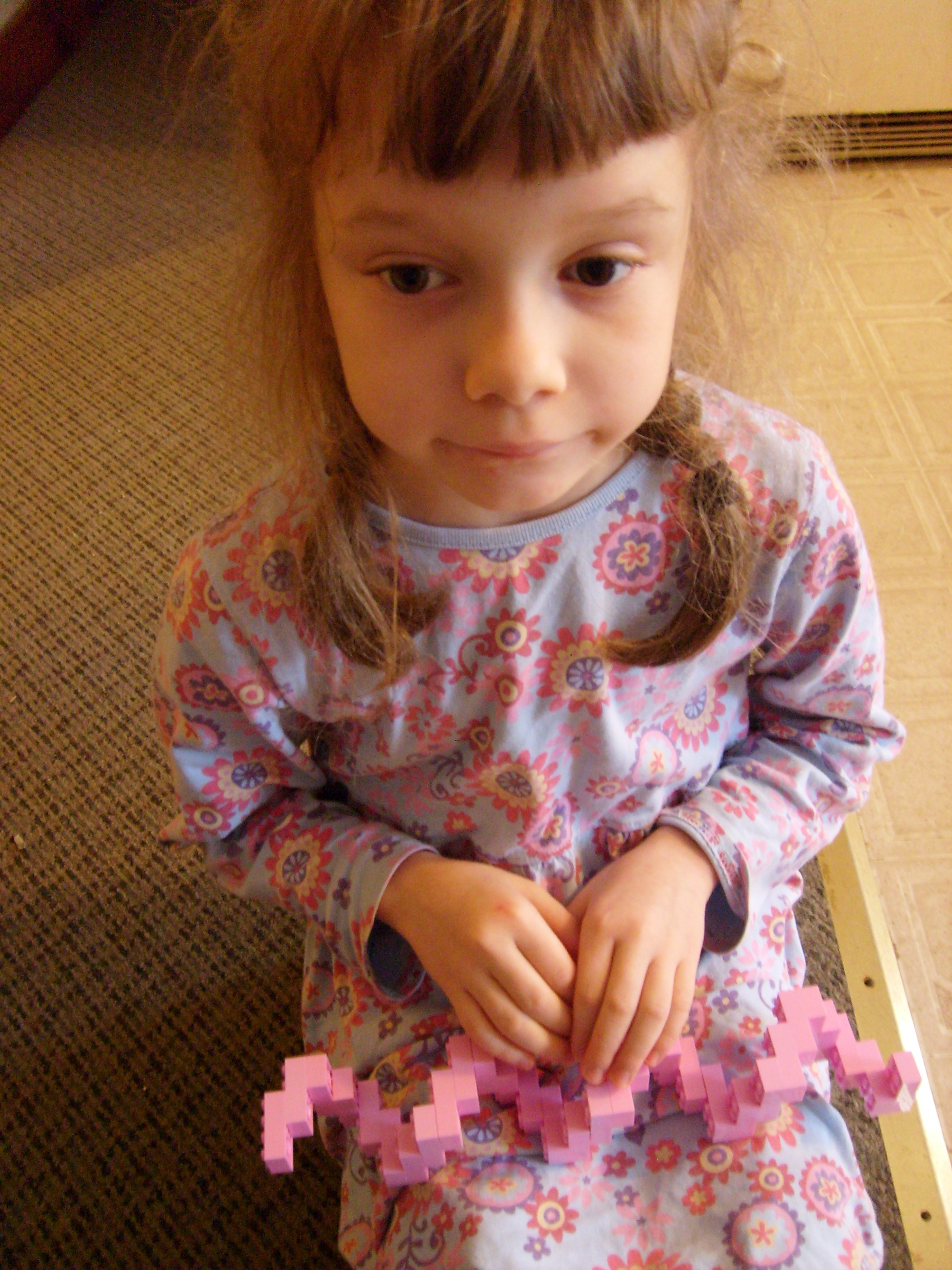 "Mommy, this is very, very delicate, but I want you to see it. I followed a pattern, two up, then turn." I told her she'd made a helix, and that it was like an important molecule in our cells.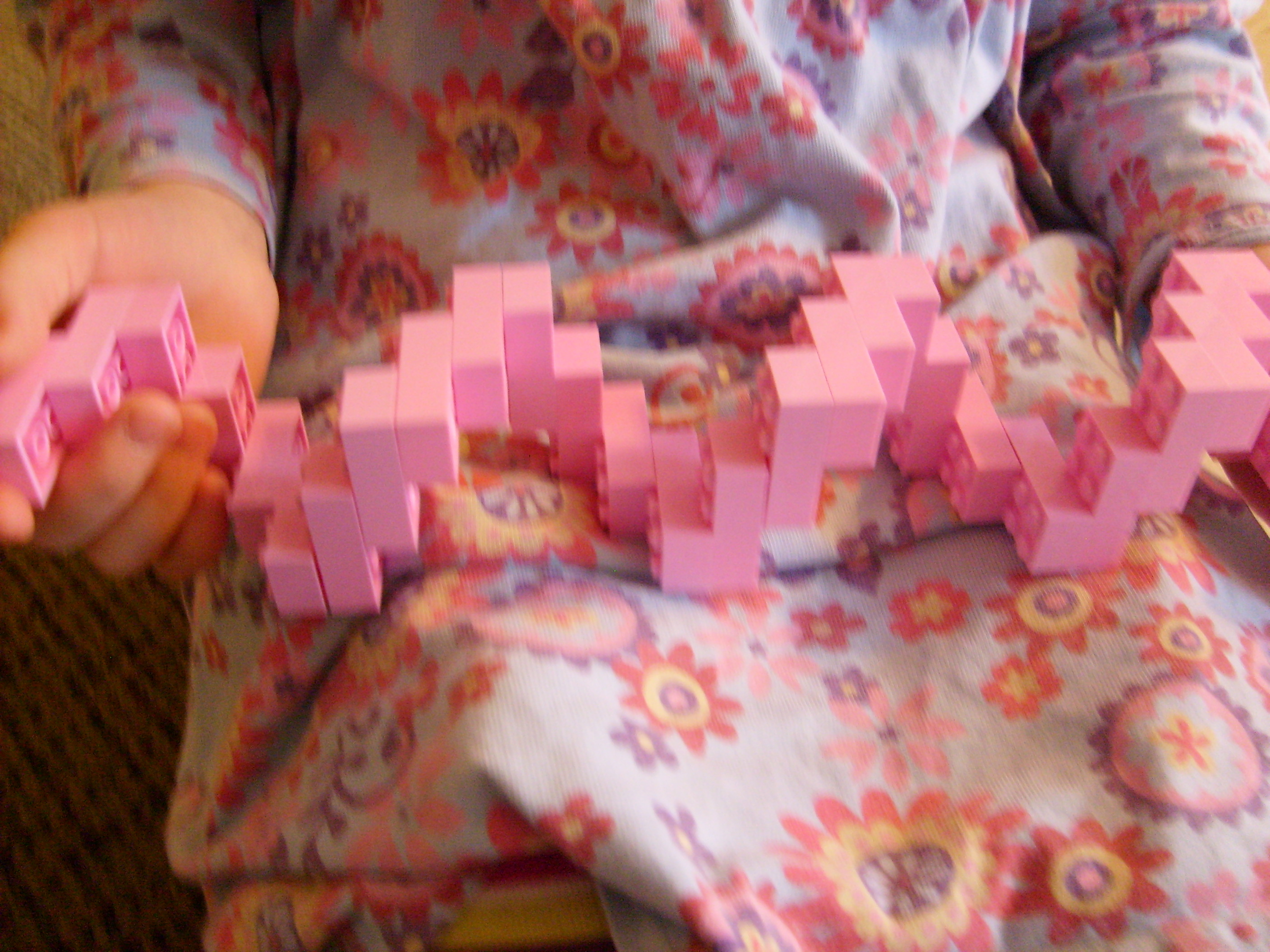 She carried it to the boy's room to show M, but it broke before he heard her an opened the door.
5 minutes later, she'd done crying, had rebuilt the model, and I took photos ("Don't get too close with the camera Moma, it might break!") M comforted her by giving hints on studier methods of construction.
Yesterday she made a house from her manual.  When she wanted to add a gate from the box that did not have instructions, I told her what I'd read in a Lego book that the first stage was following instructions, the second building from photos, and the last building from your own mind.  That comforted her, and she managed a version of the gates without upset.
A longish while ago, my friend Allen mentioned that he'd be interested in a post about how K and I experienced Lego, and if the new pink and purple blocks had anything to do with it. K certainly does love pink and purple, but I'd like to think her explorations of Lego and other building toys flows out of our family's enthusiastic geekyness. So far she's handier with cardboard and packing tape, and needle and thread, but nothing intimidates her about making stuff, until she gets frustrated. We'll see if Lego becomes her medium.
Her Mommom bought her a large box of assorted minifigs, and she has been creating characters out of the Alcatraz vs the Evil Librarians book that she listened to on the way to NY for Christmas with the boys.  She loves the figures as much as the bricks.
I had a large box of Lego from the time I was 4, it was one of those educational gifts my Grandma Williams excelled at. Dad immediately made the clockface that worked with all my gears, then I lost the instruction manual. As I grew up, I'd sometimes make small animal figures and kennels from my legos, and use the gears if Dad played with me. He seemed to think I was disappointingly domestic minded, but maybe he had a checklist of skills to make sure I learned so I'd be hardy and independent, and he felt a need to nudge me onto it.
I didn't continue to collect Lego as the sets became more specific, but I remember getting very fast at making a police car at my babysitter's house that belonged to her son Rob. When we weren't fighting, he'd let me play with it. (We both went to Houghton, and he works there now. When he writes personal notes on fundraising letters, my checkbook jumps to my hand by itself, what can I say? I was a very surly babysittee.) I had a snobby attitude that specific Lego sets were too limited in what you could make with them.  Yet I didn't make much with the large, general set that I did have.
I think I learned more about managing Lego and enjoying them as a mother than I ever did as a girl – because I knew that all building toys put mathematics into the fingers, then the mind, and I could scout the library and the internet to give it to Ben, and eventually the other children.
In my first lab job, I discovered that I love instruction manuals.  No, really.  Even if they are just barely in English, if they have good diagrams, I feel like I've got cheat codes.  When Ben became old enough to receive Duplo kits, I transferred my love of manuals to Lego, and that made a huge difference.  It helped me encourage Ben when his vision was beyond his grasp if I could look back at the Lego manual.
There are also more books about Lego than I remember from the '70s.  Oh, of course, you can use graph paper to organize your plans, lightbulb!  You don't have to make a model from your head, you can gather reference photos and copy nature.  Having one person organize parts and another build means fewer tears and tantrums.  Yes, I'm usually the parts sorter.
When Dan and I started hosting JR FIRST Lego League clubs, and Ben's FIRST Lego Leage Club we gained some experience helping kids work together.   Never expect them to take their own bricks apart, it's too painful for them.  And if you must dump Legos on the floor to sort them, put a flat sheet down first, so you can gather the ends up and put them away easily.
Legos grow spikes at night when everyone goes around barefooted.
Related Posts via Taxonomies