A few weeks ago I asked Leslie at the Sit and Knit what she charged for photography, and her jaw dropped. Then she asked me if I could model my samples and my jaw dropped. Because, I sort of thought my patterns for knitted items would sell better if they were modeled by someone with a waist.
The photographers and models I've worked with before have done beautiful work for me, long distance, but I'm beginning to have some ideas about how I want the photos staged, and how they will work in the eventual Ravelry ads I'll make with them, so I need them shot here (not in California or Arizona.) I started thinking about what is involved in me modeling my own stuff – and realized that I haven't worn any makeup since I was pregnant with Matt – I think it all rolled behind my dresser and I was secretly relieved to have a little more time in the mornings and never looked for it.  I'm pretty sure it's not still there though.
This Spring I stopped even wearing moisturizer because the gluten in the formula was upsetting my stomach.  (This celiac disease is ridiculously detail oriented, doesn't it realize I am a busy mom who homeschools?)  So one of the other ladies at the sit and knit contacted her daughter who is a makeup artist, and she texted back that e.l.f is gf.  So this week I bought a bunch at the grocery store.
K said, "But mom, you're fat!"  I said something PC about how all people are worthy of notice and beauty.  That did it.  I really need to push through my nerves about modeling now.  After that she asked very politely if she could try some – which resulted in…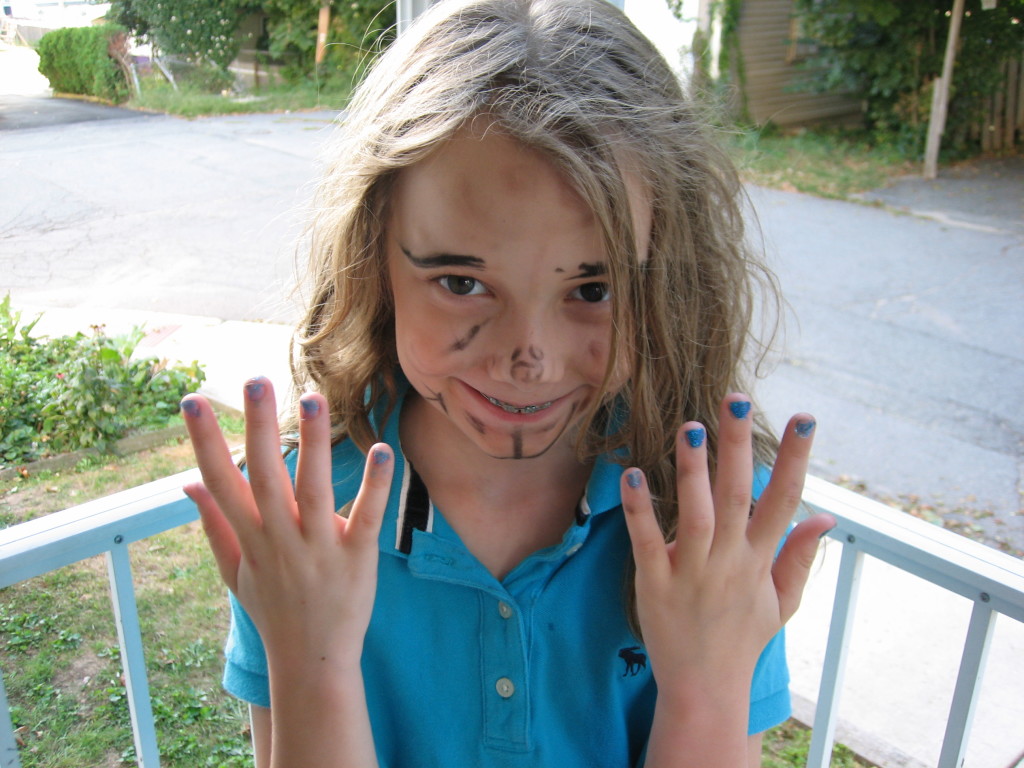 phew, she's still in the age of face crayons, not glamour girl experiments.  (Oh, the blue sparkly nail polish was next to the foundation.  I don't know it's gluten status, I gave up on nail polish back when I worked in an organic lab and … solvents.)
Yesterday I tried red lipstick.  Matt said, "Mom, your lips!" in genuine surprise.  K said, "Scary clown.  Sorry Mom."  Dan and Ben hurried to tell the other two how to be politely supportive.  I laughed so hard I almost slid to the floor.   I'll try a different color next week.
The articles I've seen on good photos mention that lip color is important to emphasize that you actually have lips.  Which will reassure people that my face exists so they will ignore it to focus on the hat I'll be modeling?
Related Posts via Taxonomies