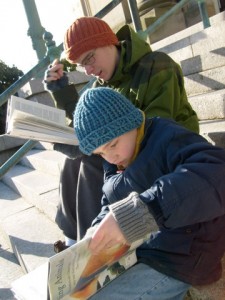 You know how I put library fines in the financial category of homeschool?  That's because I know that for every time I return a book a day late and pay $.10, that's still a living book I didn't have to buy for $10.00 and find a place to store before I'd read it to the next kid in 5  years.  The books I need aren't always in the collection in Attleboro, but I can access at least 50 other libraries through the SAILS network, and I get an e-mail when my inter-library-loan is waiting for me there.  I can even put it on reserve from home over the Internet.   I tend to batch process my books.  Sometimes a library reserve book from the same batch of Amazon books comes in first.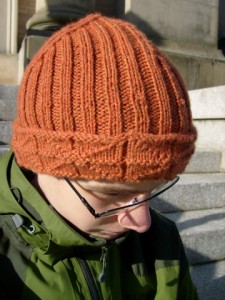 The library gives us a place to walk to (so we get outside and walk) a place to meet children and lively adults, a place to connect with the larger community.  Believe me, if something cool is happening in Attleboro, the librarians know about it, and will most likely tell me about it.  In fact, it was the children's librarian who first encouraged me to homeschool, back when Ben was a toddler.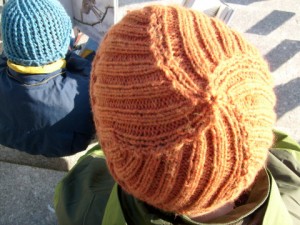 Several years ago, the city had to cut back on the budget, which meant shorter hours at the library, which meant they were close to losing state certification, which meant I might not be able to use the SAILS network.  They fixed it before I thought of a way I could contribute; but I've finally written a pattern and I'm selling it.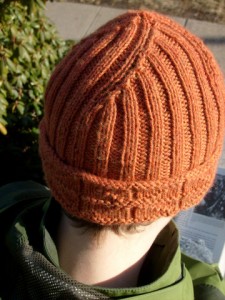 Boy did this design take a while.  I looked at the building.  The whole building reminded me of a strong set of shoulders. I looked when the first version of the library was built, and the fashions of the day – the S-curve corset was popular.  A vest with strong shoulders?  A handbag in the shape of the building?  A hat from 1908?  Too representational; not something someone would wear.  The extremely pretty children's librarian I initially approached as a model did NOT want to wear my first sketches.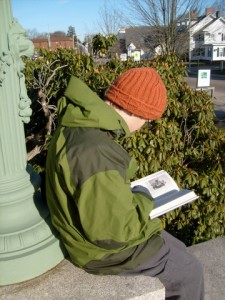 This winter, we misplaced the last several navy watchcaps we all shared and we were getting cold.  I even lost my hooded cowl I've worn since we lived in Illinois in 1998.  Watchcaps – all my family loves them – and the window pattern in the library is used as a logo anyhow, slap that on the brim.  Easy.  Men can wear them, women can wear them, children can wear them.  They don't take much yarn, and they'll stay on your head when you go sledding.
I made both a knit and crochet version, but the crochet one is still in editing.
For every $5.oo pattern I sell, I will give $4.50 to the Friends of the Attleboro Public Library.  They are the non-profit group able to receive money besides fines and taxes.  They use the money for museum passes, community programs, and buying books.

you can also pick it up on Craftsy.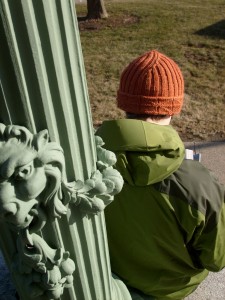 Why am I keeping $.50?  That's for hosting fees and pay pal processing – approximately.  Each website has different financial structures.  You could think of it as a $4.50 donation to the library – with a pattern thrown in as a thank you.  That's why my Dad always bought a raffle ticket from the volunteer fire department – he had a bit of a conundrum the year I won the grand prize, but that's another story.
Related Posts via Taxonomies