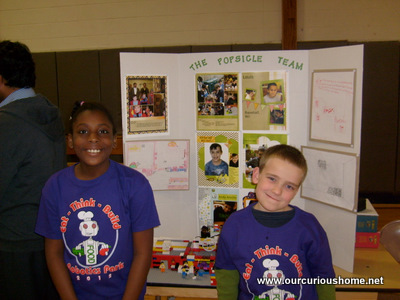 The Jr F.I.R.S.T Lego League in RI has it's expo at the R.I School of the Future, with several robotic contests and demonstrations at the same time.  Our kids get participation medals, the judge's feed back on their model, their research project, and their stage presence.  But there are no prizes.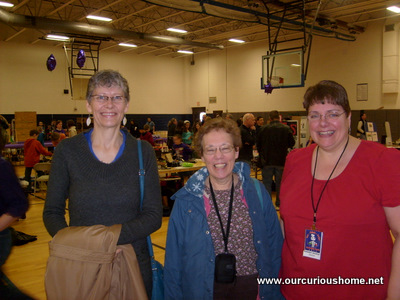 My aunt surprised me by coming out – her oncologist told her as long as her hands were washed all the time, she didn't have to avoid crowds, and she was missing people.  You can't lock an extrovert into the sick room and expect her to get well can you?  Especially if she's used to busting San Paolo…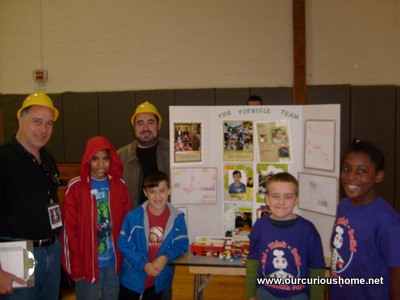 I was outside with K while the judges visited, not that I missed much, they ask the parents and coaches to step WAY back when they interview the kids.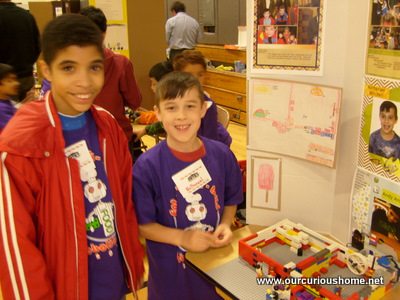 I was also outside while the kids manned their booth to explain how the refrigeration at our local grocery store helps with food safety.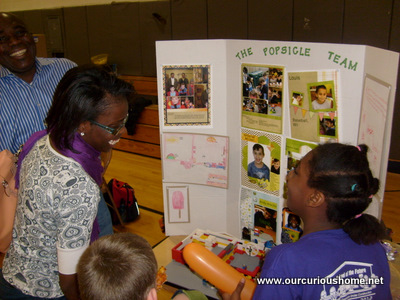 But I did meet M's teammate's delightful older sister, back North from her new job as a sales engineer to take her little sister out to the Muppet Movie for her birthday.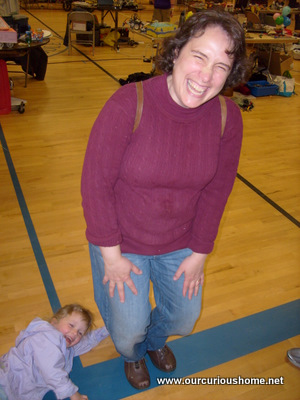 K got overstimulated in the noisy gym, I guess I did too.  I wanted to give K a chance to behave well, but I wanted to see what the team was up to also.  So we did a lot of switching between the play ground and the gym.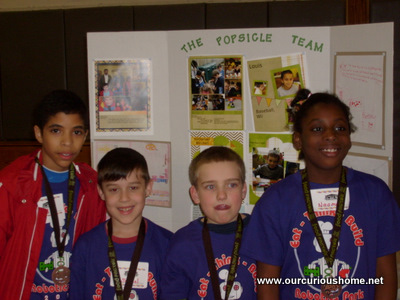 I was outside when they got their medals.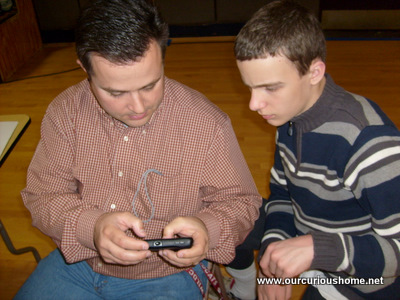 and when B recruited a Settler's of Cattan player.  But Dan took lots of pictures and filled me in on the stories.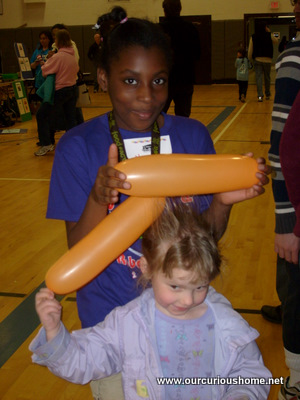 Toward the end of the day, K collected a lot of balloons from some of the other teams.  She shared them with M and his friend N, but didn't give them away to the little girl who wistfully told her, "I sure wish I had a balloon too."
Once we were halfway back to Massachusetts, K wanted to know if we could mail the little girl the balloons. (The little girl whom none of us had meet, or knew the name of.)  On Monday, she made a balloon card, and paper cut out balloon to give to the little girl – if we ever meet her again.
Ah, choices in real time, K, I'm not good at them either.  I want to feel like a generous person, but I want my balloons too.
Related Posts via Taxonomies