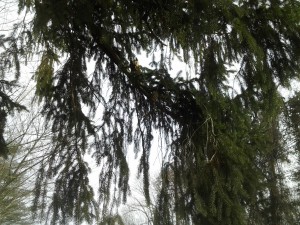 I was walking back from lunch, almost at work, when I heard a commotion up in the tree by the ten mile river, actually the outlet of the old turbine chase, I looked up expecting to see a squirrel, saw a brown shape, so I took a closer look, and saw it was an owl roosting in the pine tree about teen feet up with its feathers all puffed up.
It was cold, so I think it was just trying to stay warm.  I snapped a few pictures with my phone, here is the cropped version so it's easier to see the owl.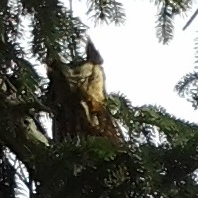 It's probably an Eastern Screech owl, but it's not a very good picture.
-Dan (DH) as dictated to Christine – who is always glad for blog fodder.
Related Posts via Taxonomies