Dan and Ben come ho-me to-oo-day (Ah ah ah le lu ja)
and I forget the rest of the hymn that's lending me it's tune for today. I am NOT good at running this place alone, although M and K have been darling, helpful and obedient, most of the time and not always in that order. Today I didn't turn on the computer until we'd checked off the to-do list as far as cleaning what made sense to do before lunch, and schoolwork.
K has made a waving machine for the next parade: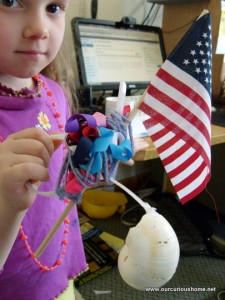 And we did make iced sugar cookies to give to our neighbors. We meant to do it in December, but celiac disease interrupted. The gf recipe I was following was eh for flavor, so we used cream cheese frosting to get more vanilla into it – much better.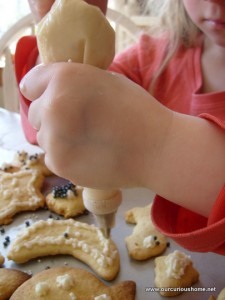 M and the upstairs neighbors are filling in the large holes they dug in the side yard this week – our landlady and anonymous neighbor didn't like them. I guess I wasn't paying the best attention to how often they were asking to borrow my spade, or how much minecraft M was playing.
Related Posts via Taxonomies