Welcome to the Carnival of homeschooling.  I've dug through my blog and photo archive to see what things were typically happening in our family in early December.   Over a month since the change, and we were still not used to the early dark.  "Poison Hour," (AKA Arsenic Hour and Suicide Hour) had re-emerged.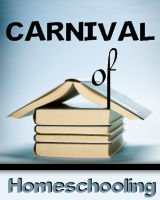 Getting outside makes such a difference, even if finding the hats that don't scratch takes forever.
The Mommy Earth recounts a Nature Study project that spanned three seasons in Preying Mantis  Oothecae. Be sure to scroll down to the bottom of the post – you do not want to miss the photos of the toddler investigating olive oil.
Imagine if you could tell  your Poison Hour Wigglers and Whiners to go run around in your own gym.  A family in Kentucky can do just that because they just moved into an old elementary school. Corn and Oil posted the story.
Adults may not mind the early dark so much, but often get unsettled by friends and family who disapprove of their choice to homeschool.  The Headmistress at the Common Room writes When Family Members and Friends Seem Hostile to Homeschooling, with some advise on responding with grace.
Math manipulatives always jazz things up
I love this post and especially the photo.  Roscommon Acres tells how Mouse discovered her mechanical inclinations by fixing some broken toys.  (My husband, an engineer heard me hooting over this post, read it, and enjoyed it as much as I did.  But he is trained to think of the worst, so he asked me to write a warning that even unplugged, a microwave, electronic device with screen or anything else with a large capacitor can hold a lethal charge.  Toasters are great for tinkering with though.)
Make your own Robot Book. Sometimes I'm glad my M doesn't read my blog yet I can hear him now, "Can I make a robot book now Mom? Please?" from Crack the Egg.
Sometimes my kids were creatively penned in
"He's very Active."  Every hear yourself say that? Thanks for the reminder Mother of Boys, it is a gift, not an affliction.
Sometimes they made their own small spaces.
You really need to study your children to tutor them effectively.  Katherine of No Fighting, No Biting! observed her children's differrences at a piano recital in All God's Children are Unique.
We didn't mind her creative naughtiness – Mom had to organize lids anyway.
Writing of cleaning, The Legacy of Home describes their process for a clean house before the weekend.
Dad-Dad keeps these trains for the Grandkids
The Christmas Crafting Fair at the L.I.F.E. group is a huge event in our homeschool. Every year I quiz my crafting friends to help me find a project, experiment on my kids to get it just right, then interact with other people's kids while mine roam the crafting tables with friends.
Co-oping is near and dear to my heart – I organize the other co-op we attend.  Reading Coach Online has a great post on the organization journey of Starting a Co-op – Finding Others. He is 100% right in his closing line, "If you are thinking of starting a co-op, don't feel bad about being selective and laying out firm expectations from the very beginning."  To paraphrase Debra Bell, a co-op is not a support group, if you feel badly that you cannot help all comers, start a support group.
I so enjoy posts that describe what a family did specifically.  A Net in Time describes a lovely day.
We also fit a lot of field trips into early December, usually to do research for the upcoming F.I.R.S.T. Lego League or Jr F.I.R.S.T. Lego League Expos.
There are so many resources!  Apollos Academy links to Disunion, a series by the New York Times on the American Civil War (AKA War of Northern Aggression.)
Jimmie's Collage is a resource for me as a teacher.  I had a star on this post in my blog reader before she even submitted it for the carnival, because much as I empathize with my  kid's writing struggles, I still don't always know what to say to encourage them.
An experienced homeschooler can be a resource if you aren't sure how to use a curriculum, or adapt it to multiple ages.  Morning Star Learning answers some questions about how to use Spell to Write and Read.
Baking was one sure fire way to keep short people cheery after sunset.
You don't have to bake to make dark days cheery, the Five of Us highlighted an art project/science demonstration at Nature Study with a Bit of Science.
M really admires B's status as kid old enough to run the mixer himself.
M looks up to B, but we don't have any college kid here (yet) Barbara Frank has an ironic article about the state of college writing at Your Kid's College Competition Can't Write.
And then there was Christmas decorating at Grandma's House (we open presents there, so we don't decorate our house)
e-Mom explores Hannukah at Chrysalis Cafe. Lots of cheery lights in that tradition.
Poison Hour Time, Dinner time, Hannukah time, Christmas time, Daylight savings time…how do you know when homeschooling time is over?  The days are long, but the years are short, congratulations SpunkyHomeSchool!
This week's carnival time is over, you can read next week's carnival at Home Spun Juggling, you can submit an article from your blog at Blog Carnival.  Thanks for reading!  Remember to leave lots of thoughtful comments you will make some blogger's day!
Related Posts via Taxonomies