Sometimes you practice the same tune for weeks.  And your fingers don't understand what the music notes mean.  And you peek at your Mom's fingers and loose your place in the music.  For weeks.
And she says dumb things like, "Well, you got the timing right." or "That last note was correct, so the tune sounds like it's finished.  If you act confident, your audience will think it's a modern piece, but know it's time to clap."
And then, either because you started reviewing the basic positions with the names of the notes and the locations of the dot on the music staff, or because you teeth weren't hurting, or because you wore your glasses during lesson time…it sounded like music.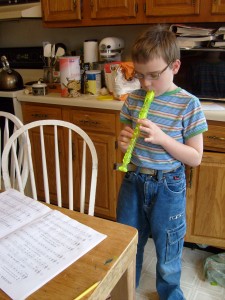 Even with Mom playing the harmony.
Related Posts via Taxonomies