Sometimes when I'm trying not to panic, I oversimplify my duties. We are taking M and a friend to the New England Aquarium for his birthday next week, when the library pass is available, so I forgot that TODAY is M's birthday for real.
Sometimes, I think everyone should have their birthday on Christmas like me, to simplify the schedule. Don't time travel and tell young Me that I said that. She'd think I've sold out.
Last night Dan mentioned that today would be M's birthday, and asked me what we are doing. "We're taking him and a friend to the New England Aquarium… on Monday."
Suddenly that sounded a bit overly simple and convenient.
I thought, I've got bacon in the freezer, how about suggesting that? M was delighted, "I've never had bacon by itself, just sprinkled on other dishes!"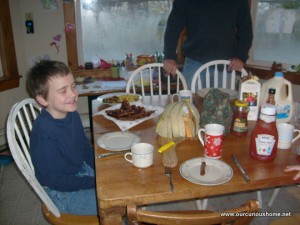 I mentioned this to Dan when he got home from the deacon's meeting last night, and mused that if I got up early enough, I could make home fries to go with it.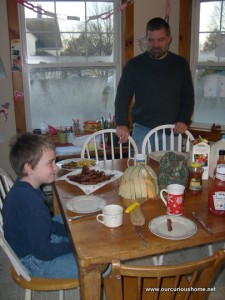 Dan became inspired. When Ben got up at 5:00 to do his geometry without sibling interruptions, Dan headed to the grocery store to pick up some sausage, orange juice and mushrooms. (In honor of the breakfast the dwarves fix for Shasta in The Horse and his Boy, Bacon and Eggs and Mushrooms all frying together in a pan.)
When he returned, with cantelop and gf cereal, he remarked, "Never send Daddy to the store when he's hungry."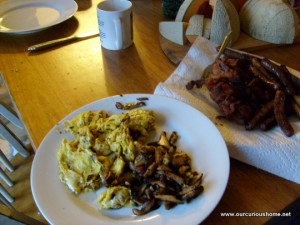 M had to wait a little while for his birthday feast, but he read a Star Wars library book while he waited, with Dan nearby to consult on tricky phonograms M had forgotten.
And the final menue was: sausage, bacon, eggs, mushroom, cantelope, and home fries with onion.
Do I ever have dishes to wash.
Related Posts via Taxonomies