Dan calculated that today at dinner, I will have been married to him for half of my life. It seems incredible that I picked so well when I was so young – it pays off to listen to your adults and read the book of Proverbs.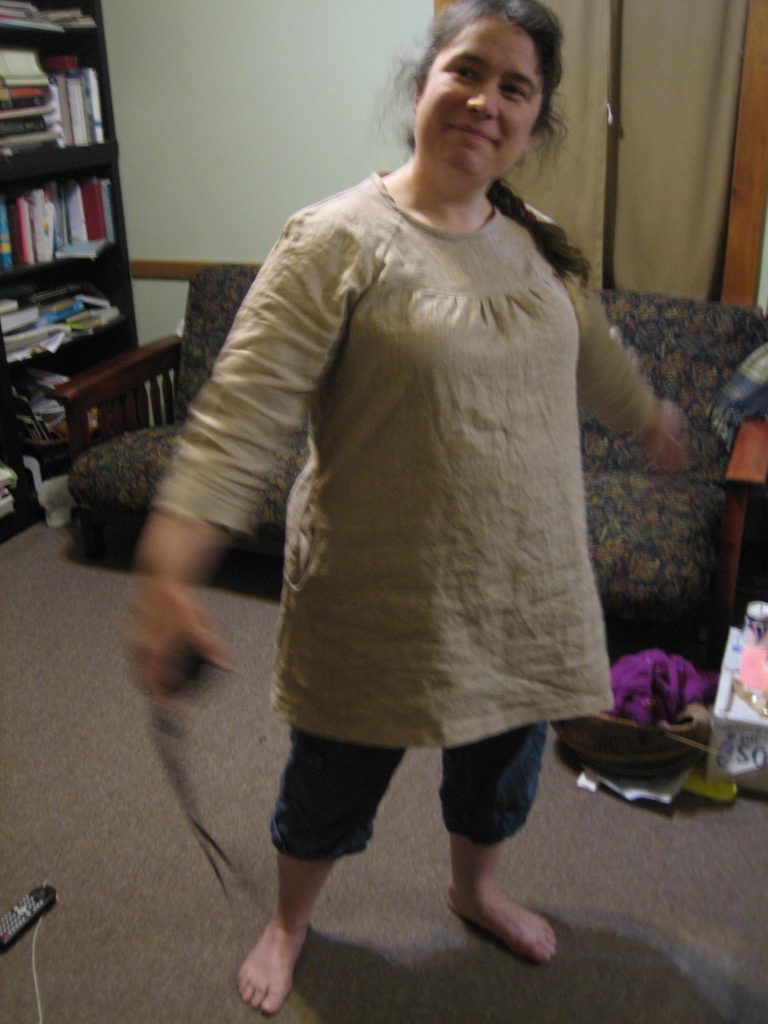 I sewed an Ann Carolyn Smock after meeting Ellen Mason at In the Loop. Last fall when Dan took me to Rhinebeck, I saw a lady working a loom booth wearing a smock with pockets, and realized that I really wanted a smock with pockets. I haven't finished sewing for myself in a year, and the last project I tried was a failure (Japanese patterns do not have seam allowances. If you try to set in a sleeve to an armseye with out a seam allowance, you won't be able to move your arm, because armseyes and crotches get smaller the larger the hole is cut. I have now proved this. Duh.)
K made a tiny golf set, out of cardboard, construction paper, paper towel tubes and lots of tape.  It had pompoms for balls, and pens for clubs. It's too cute for us to put it in the recycling, but I think she's done with it. Her cousins played it with her, and parts of it were hard! I think it was a great engineering project, but maybe I can give it to the library so they will recycle it after someone plays with it?
Ben brought home an adorable motor that he made in engineering lab, none of his partners wanted to keep it – it will probably go on a shelf with beloved Lego displays soon. I wonder if I can fit K's tiny golf set up by her Lego displays – um no, it's 2 feet high.
Ben has started looking into living in Boston for next year. We are all going into stages of mourning. It hasn't quiet felt like the big goodbye with him commuting to college every day. Except on the first Monday of the month when he meets friends for shwarma and goes to the free concert in Jordan Hall.
It's a first Monday.
I miss him.  Ahem…I mean, it's good that he's spreading his wings and being independent.
Matt's friends at Eagle's Wings Coop are working on a display about Sweden. He got to meet up with them to work on it out of class, and enjoy their new puppies. I've been enjoying his writing assignments from his English class at Good Company Tutorials.  He's writing, typing and editing with so much more fluency than last summer.  NaNoWriMo paid off even if he didn't finish his novel?
K has been reading much more fluently since she started pointing to the words with the top of a fork.  A spoon would be more comfortable to hold, but we get to say, "May the Fork Be With You."  School is always better with Star Wars references.
I posted my 20th pattern to Ravelry this month, a scarf, hat and mitten set using Elsebeth Lavold's continuous cable technique.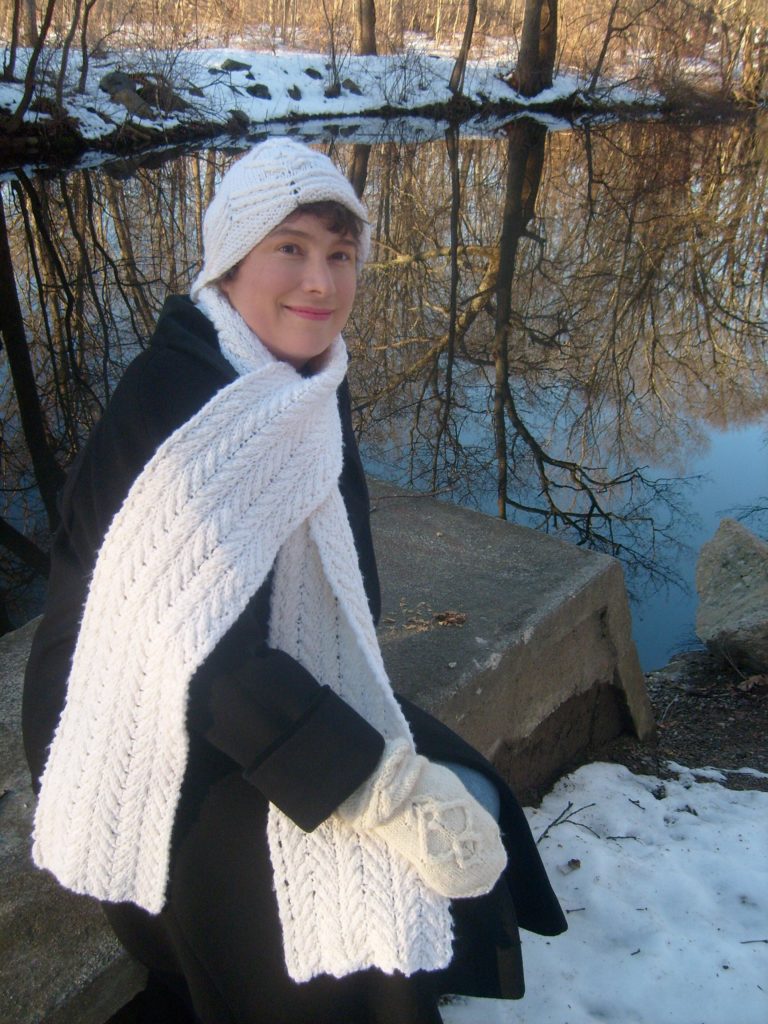 Related Posts via Taxonomies