Pretty, Happy, Funny
When my in-laws joined us to help at the Family Fun Fair, they finished K's bedroom as a 22nd anniversary gift.  We were up to stage 2 of our plan, Monday after the fair, they travelled to IKEA, and finished the whole list. (Mommom insisted on a really good mattress while she was at it)
Grandparents are like superheroes.
I stayed  home to clean out K's room and vacuum under the old furniture – the little boy upstairs is enjoying the desk, chair and rocker that she'd outgrown.  I also began to learn how to get to the screen on the common app where I CAN upload Ben's transcript.  He had to invite me to be his councillor (by clicking on one of his colleges, then indicating referrers.  How intuitive, of course, what obvious html navigation.)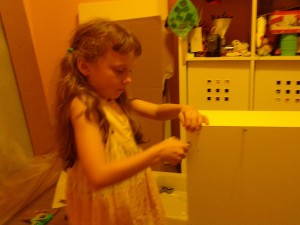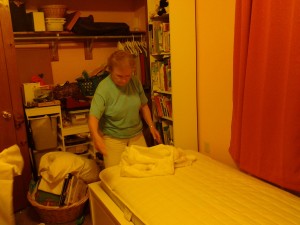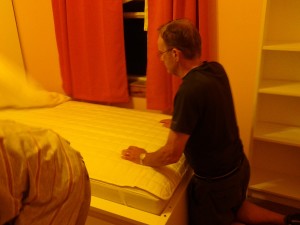 There was a bit of shuffling to get the furniture assembled and installed. Dan always bolts the high book cases to the wall,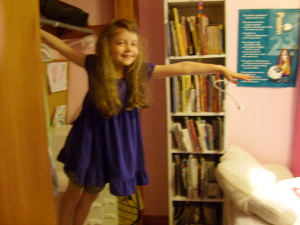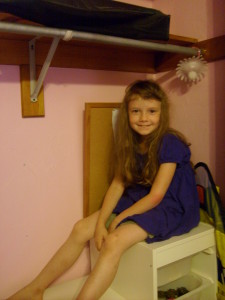 And of course the furniture that's designed to be a chair gets bolted to the wall as well.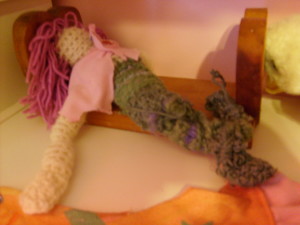 One of the shelves has become a doll house for the mermaid K and I crocheted together (K did the tail). My friend Talitha Kuomi gave her a swatch from one of her designs to use as a mermaid blanket. Tal is competing in the Hola Knits mini-collection competition, if you want to vote.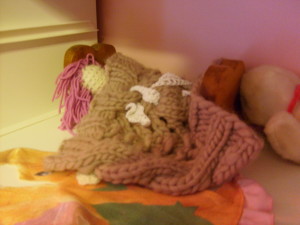 K's yarn stash is rather lovely these days, I asked the ladies at In the Loop for scrap yarn for her – and these ladies don't seem to believe in acrylic. Now that K has all these bins, the yarn is not rolling on the floor.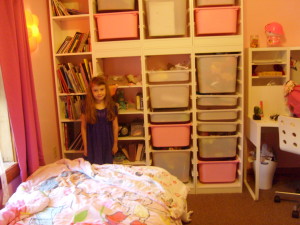 Unless she is matching colors, because somehow, unless yarn is dumped on the floor, she can't match colors.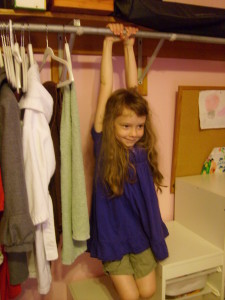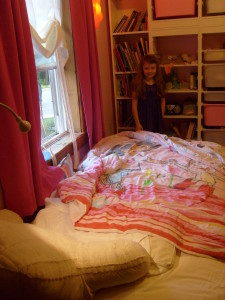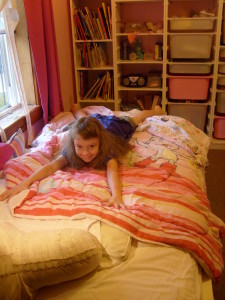 Everyone likes to sit on this mattress, so I'm getting lots of company when I read to K at night; though who doesn't like to listen to the Horse and his Boy?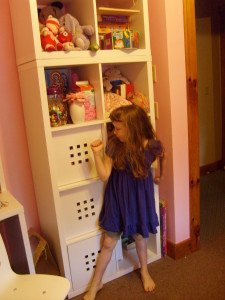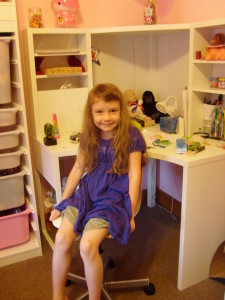 Real:
I'm not sure the desk will be used beyond flat surface storage, k is an inveterate floor girl. She may grow out of it, but I haven't.
I'm not sure she has figured out that that is why I urge her to use the desk more – so she won't be as messy as me forever, but…yeah.
And, I didn't take a photo of the cubbie space behind the door.
Related Posts via Taxonomies